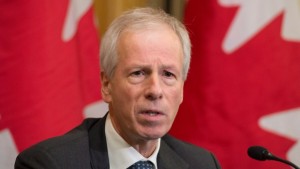 A day after Canada's foreign minister Stephane Dion stated that "unilateral actions such as Palestinian initiatives toward statehood in international forums and continued Israeli settlements, are unhelpful and constitute serious obstacles to achieving a comprehensive, just and lasting peace", his spokesman Joe Pickerill on Monday explained that Israel and Canada are "good friends" and "tough messages" can occasionally be delivered. Dion's criticism seems to have signaled a changing position of the Canadian government after the liberals won the elections against the conservatives, pro-Israel, in October.
Dion said Canada supports actions that would help the revival of negotiations between Israel and Palestine and in November, he said a sustainable peace in the Middle East will be beneficiary to Israel. On Sunday, he said a two state agreement with an independent Palestine is "the most viable path to peace."
Dion's latest statement was strongly criticized by Conservative foreign affairs critic Tony Clement and deputy critic Peter Kent as they questioned why he failed to "condemn such violence" being perpetrated by Hamas and the Palestinians because "by only expressing 'concern,' and by omission, equates such terrorist attacks (Hamas rockets and knife stabbings) with Israeli settlement construction." They said his statement is "unacceptable."
Spokesman Pickerill downplayed the reaction surrounding Dion's statement saying "we're steadfast allies and good friends, and good friends can occasionally deliver tough messages, but it's by no means to suggest that we're somehow retreating from any kind of support of Israel." He said the minister was pointing out Canada's position and "not necessarily equating the violence by any means on both sides" because it does not want to create a "faux balance."
Netanyahu renewed at the beginning of the week his government's resolve to carry on building settlements.