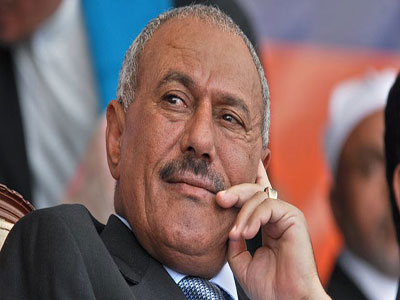 Former Yemeni president Ali Abdullah Saleh who is an ally to the Houthi Movement told members of the General People's Congress (GPC) party on Sunday that dialogue with the "escapees" will end when the war stops and talks should rather be held with Saudi Arabia which is leading the military campaign to reinstate Hadi as president. His statement was aimed at the Hadi-led government that is currently based in Aden while awaiting the liberation of Houthi controlled Sana'a.
GPC was present at the U.N-led talks held earlier this month with another round expected on January 14 but Saleh said the party "will not take part in (future) dialogue… unless the war ends." It seems as if he wants to sideline the Hadi government in the talks as he stated that "if the war ends, we will hold talks with Saudi Arabia and not with the delegate of the escapees." He was referring to President Hadi and company who escaped house arrest under the Houthis in Sana'a before surfacing in Aden and later on fled to Riyadh.
Saudi stated that the objective of its military led campaign is to reinstate Hadi as the legitimate president of Yemen. Saleh proposed to urge the Houthis to "cooperate" with Riyadh if the fighting ends.
The Houthis are believed to be backed by Iran and a delegation of the movement's Political Council is currently in Tehran and had a meeting with Iran's Deputy Foreign Minister for Arab and African Affairs Hossein Amir-Abdollahian. Mohammad al-Bukhaiti, the head of the Yemeni delegation, praised Iran for its humanitarian aid consignments and efforts to end the war while Abdollahian said Iran backs a political solution between warring sides that will safeguard the nation's interests.