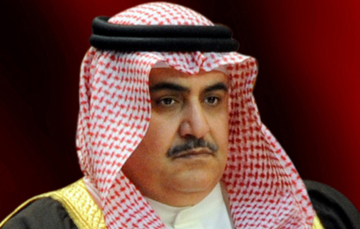 Bahrain has called for the immediate release of the Qataris who were abducted in the Iraqi desert of Samawa in Al-Muthanna province last week while on a hunting expedition and urged Baghdad to do all that it can to free them unharmed because the current situation could affect ties with Gulf countries. 26 Qataris including a Kuwaiti were taken hostage by armed gunmen and a member of the Qatari royal family identified as Jassem Fahd Al Thani is among them.
Doha has not been too vocal on the matter after confirming the incident but Bahraini foreign minister Khalid al Khalifa in a telephone discussion with his Iraqi counterpart Ibrahim al-Jaafari said his government has "deep" concerns about the situation because the hunting crew was abducted "despite entering Iraqi territory legally and without violation" according to a released statement from the Bahraini ministry.
The Iraqi interior ministry stated shortly after the abduction that the crew "moved in the vast desert areas and did not abide by the instructions of the ministry not to bypass the insured areas" but the Bahrain's foreign ministry described the incident as "a violation of all moral and human values."
The chairman of the Iraqi parliament's Security and Defense Commission, Hakim al-Zamili yesterday said five suspects have been arrested as investigations continue.
No group has claimed responsibility for the abduction but unconfirmed reports have claimed that they are demanding the release of prisoners held by Jabhat al-Nusra and its withdrawal in some areas near the Lebanese border while others claim that they are seeking to exchange their Qatari captives for Sheikh Nimr al-Nimr, the prominent Shia cleric who has been sentenced to death in Saudi Arabia.