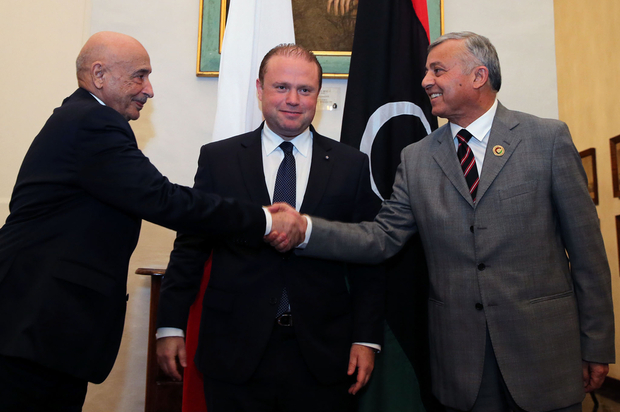 The long awaited political agreement between Libya's two rival governments is expected to be signed on Thursday in the Moroccan coastal city of Skhirat, a day after the presidents of the two parliaments met for the first time. The meeting held in Malta between Presidents Nouri Abusahmain of the General National Congress (GNC) in Tripoli and Aguila Saleh Issa of the House of Representative (HoR) in Tobruk was seen as a major step on the path towards the end of the war and was met with joyful celebrations in several parts of the country. Both officials signaled that Libya could solve its problems as they try to repel the immense international pressure for them to reach an agreement.
Abusahmain warned that "acting hastily on this matter will only lead to more problems in the future" as he described their meeting as a Libyan consensus while his counterpart from Tobruk, Saleh Issa, underlined that their presence was "to announce to the world that we are able to solve our problems ourselves, with the help of the international community, but we will not accept foreign intervention against the will of the Libyan people."
The signing of a political agreement under the U.N-led talks was to be part of the meeting but both parties declined to sign as they seek to revise it.
Saleh urged for more time to name those who will be part of a unity government while asking Libyans "to be patient for the sake of Libya" because they want to ensure that the members of the transitional government will represent the authentic will of the people. "All the people and the world want stability in Libya… We tell that this problem will be solved" he concluded.