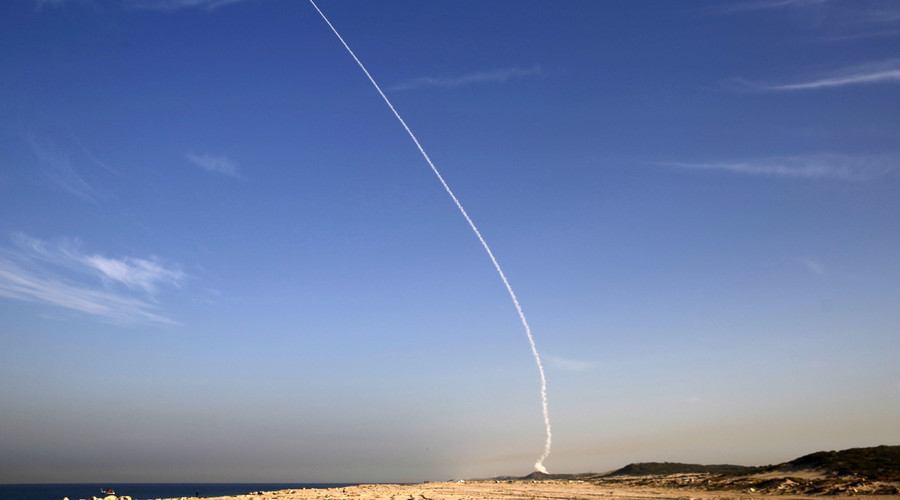 Israel successfully tested the Arrow 3 missile defense system a year after a similar test failed. The accomplishment has been hailed by the defense minister as "a major milestone" that will boost the confidence of "future Israeli capabilities to defeat the developing threats." The system has proven to be one of the country's highest interceptors after it neutralized its target above the atmosphere.
Director YairRamati of the Israel Missile Defense Organization at the defense ministry applauded the efforts behind the development of the system which uses a collection of sensors including the Super Green Pine radar to identify and neutralize its target before it enters the atmosphere. He said "this was the first time Israel successfully hit a target at such elevations essentially in space."Ramati noted that the systems worked as expected and the"interception was accurate, unequivocally" as it hit the target "dead center."
The Arrow 3 missiles are designed to intercept ballistic missiles carrying nuclear warheads aimed at Israel. CEO Joseph Weiss of Israeli Aerospace Industries (IAI) said the test is "an important step towards one of the most important projects for Israel and IAI becoming operational" while YoavTurgeman, General Manager of IAI's MLM Division, said the results of the test was"well beyond our expectations." More tests are expected to be held before the system is delivered to the military.
Israel already uses several missile defense systems. The Iron Dome for short-range missiles, David's Sling for mid-range rockets and missiles as well as UAVs and eventually cruise missiles and the Arrow 2 is dedicated to intercepting long-range ballistic missiles.
Arrow 3 was scheduled to be operational by 2016 but last year's test failure might delay it.