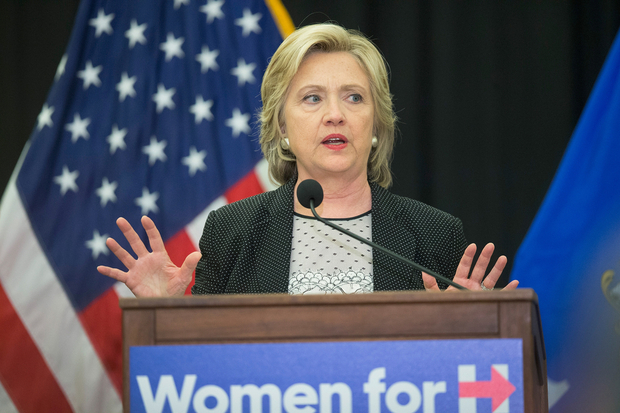 US Secretary of State John Kerry and former Secretary Hillary Clinton over the weekend panned Israeli Premier Benjamin Netanyahu for his violence-productive policies including expansion and his refusal to condone two-state solution requested by the international community to end five decade conflict between Israelis and Palestinians.
Saturday Secretary Kerry warned that collapse of Palestinian Authority headed by Mahmoud Abbas will further fuel violence in the region adding that Israel will be forced to deploy more forces to guarantee security in the West Bank.
He also urged Netanyahu to endorse the two state solution said to end conflict between two enemies.
Also on Sunday, speaking to the Brookings Institute, Democrat candidate and former US Secretary of State Hillary Clinton warned Netanyahu's rejection of the two-state solution rather roll out red carpet for more violence adding that a fall of Abbas' government will leave a vacuum which will be filled by IS.
Addressing the participants made of the Israeli leaders and Americans, Clinton stressed that Abbas remains the only true partner of Israel in the conflict.
"What is the alternative? Who is better?" she was quoted as saying.
Clinton also reminded the gathering that expansion of settlements was rendering peace efforts more difficult.
Netanyahu hit back on Sunday saying that refusal by Palestinians to recognize Israeli as a Jewish state was the root cause of the conflict, and not settlement.
In a video conference addressed to the Brookings Institute, Netanyahu accused Palestinians of choosing the path of violence as they refuse to recognize the legitimacy of Israel as a Jewish state.
"That was and remains the core of the conflict — not this or that gesture or the absence of this or that gesture but the unwillingness of Palestinian leadership to make that leap," Netanyahu said.
Also on Saturday in a cabinet meeting, he rejected calls for two-state solution saying that "Israel will not be a binational state, but in order for there to be peace, the other side needs to decide if they want peace. Unfortunately, this is not what we are seeing."
"The only reasonable solution is a demilitarized Palestinian state that recognizes the Jewish state," Netanyahu pointed out before adding "We still have many issues to resolve, but it begins with the recognition of the right of the Jewish people to have a state at all."
The Obama administration has been wary of Netanyahu's settlement expansion policy which Palestinians view source of the contention, claiming respect of the 1967 accords.
Recent violence between Palestinians and Israeli has caused the death of 113 Palestinians and 19 Israeli since beginning of October.