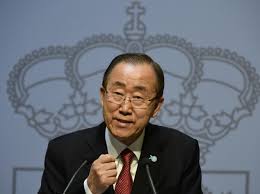 U.N secretary General Ban Ki-moon has urged the participating countries in the Vienna talks on the war on Syria to show "flexibility" in order to make progress since "there is no military solution."
The talks starting this Friday are grouping countries that have drastically opposing views on Syria and observers believe that there is not much to expect from these talks.
U.S., Saudi Arabia and Turkey which are attending the meeting have always stressed that Assad can't be part of a transitional government while Russia and Iran are strong backers of Damascus.
A western diplomat said ending the meeting without any walkouts would be seen as a success.
Saudi's foreign minister Adel al-Jubeir stressed that Assad's departure is nonnegotiable as he told BBC that "he will go either through a political process or he will be removed by force."
Assad has maintained his position through the four year war and his forces have been gaining momentum since the Russian airstrikes began.
"A reasonable solution" must involve Iran, Iranian foreign minister Javad Zarif argued as he claimed that all the other powers are aware of it. Iranian Deputy foreign minister Amir Abdollahian will be at the talks and he told local media that Tehran "does not insist on keeping Assad in power forever." ITV reported that a six-month transitional period followed by a nationwide general election is being considered by Iran but Assad should oversee the transitional period and be able to stand in the elections.
The talks are still at an early stage and Ban Ki-moon urged participating nations that "the longer they take their own national perspectives, the more people will suffer, and the whole world will suffer." He called on them to take-up the mantle of "global leadership."