King of Morocco Hails India's "Constructive" Standing on Sahara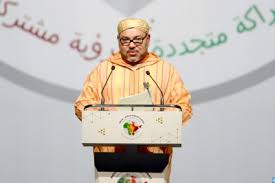 King Mohammed VI of Morocco hailed Thursday India's "constructive position" regarding the Sahara issue and praised its support for the UN process to resolve this artificial conflict.
"I should like to express our appreciation for the Republic of India's constructive position concerning the Moroccan Sahara issue and for supporting the UN process to resolve this artificial conflict", said the Moroccan Sovereign in his speech at the 3rd India-Africa Forum Summit currently held in New-Delhi, India, one of Morocco's major partners.
However, "I regret, on the other hand, that some countries have been unable to move forward; they continue repeating obsolete discourses and theses that date back more than 40 years", said King Mohammed VI, making reference to neighboring Algeria and other African countries supporting separatism.
On Moroccan-Indian relations, the Moroccan Sovereign said : "I have fond memories of my first visit to India, back in 1983, when I led (as Crown Prince) the Moroccan delegation to the Conference of the Non-Aligned Movement and also of my first official visit here in 2001."
This royal visit took place less than two years after King Mohammed VI came to power at the death of his Father, the late King Hassan II.
"Our two nations enjoy outstanding relations which date back to the time of my revered grandfather, His Majesty King Mohammed V- may he rest in peace – and of the great leader Jawaharlal Nehru, who were both engaged in the struggle for the liberation and independence of African States", he added.
"Morocco looks forward to launching joint initiatives with India, within the framework of this Forum, in areas which are a priority for our peoples and in which our two countries have gained extensive expertise", stressed the Sovereign, citing in this regard the fruitful partnership set between two countries in the field of phosphates and their derivatives.
"We seek to expand our cooperation in this field to include food security programs, putting our know-how at the disposal of some African countries", affirmed King Mohammed VI, expressing his resolve to expand Moroccan-Indian cooperation, particularly in such sectors as agriculture, the pharmaceutical industry, research in science and technology and the training of managerial staff, "making sure we build on that experience to serve African peoples", he said.
Touching on the IAFS agenda and goals, the Moroccan Sovereign said the summit is an opportunity for "us to assess South-South cooperation, which is the cornerstone of the African-Indian partnership".
For King Mohammed VI, the 3rd IAFS Forum "should serve as a platform to lay the foundations for an efficient, solidarity-based, multidimensional South-South cooperation model, through which we can make optimal use of the resources and potential available in our countries".
"Our cooperation (…) should serve our countries' strategic interests," and "the South-South cooperation we are yearning for is neither a mere slogan nor a political luxury", but a "pressing need, given the scale of the challenges faced," added the King.
For these raisons, "Morocco is keen to carry out tangible projects, both at the bilateral level and within the framework of triangular cooperation, in productive areas which boost development, create jobs and have a direct impact on the citizens' lives", underlined the Moroccan King, citing in this regard the North African country "growing diversified partnerships with a number of African states in the area of human development as well as in various social, economic and religious fields"
Through these partnerships, Morocco has "become the top African investor in West Africa and the second biggest in the continent", said the Moroccan Sovereign.
Short URL: https://me-confidential.com/?p=10991
Posted by
meconfident
on Oct 29 2015. Filed under
Headlines
,
World News
. You can follow any responses to this entry through the
RSS 2.0
. Both comments and pings are currently closed.