U.N warns of what lies ahead in Yemen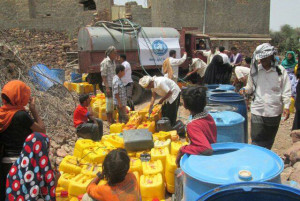 U.N agencies have released alarming statements on the humanitarian situation in Yemen and the historical crafts that are facing eminent danger.
More than 21 million people are in need of aid and the situation on the ground is worsening as fighting continues and neither the Houthis nor the Saudi-led coalition have shown signs of suspending their hostilities for humanitarian aid during Ramadan.
Some 80% of the Yemeni population need assistance according to the U.N and 13 million are facing "a food security crisis" while 9.4 million have little or no access to water.
The U.N has warned that the available resources can't cater for the humanitarian needs and that only around 11.7 million are expected to be beneficiaries of its current response plan.
The UN has already declared a "Level 3" humanitarian emergency, its highest-level, in Yemen as fighting between rival armed groups continues.
Medical officials say hospitals in Aden are overwhelmed and operating rooms work around the clock to treat the injured. Shortages of medical supplies and fuel are also a challenge.
The World Health Organization reported that 3,083 people have died and 14,324 have been wounded with more than one million fleeing their homes.
Coalition airstrikes continued in Shabwa and Taiz provinces. Twelve Houthis were killed when an encampment in Shabwa was hit, officials said.
UNESCO has also included the ancient cities of Sana'a and Shibam in the endangered World Heritage sites. UNESCO deplored the "serious damage" done to some sites amongst which is the 12th century al-Mahdi Mosque. "The majority of the mosque's colorful, decorated doors and window panes characteristic of the city's domestic architecture have been shattered or damaged."
While the people's misery is increasing, there is no sign that an agreement between the Houthi Movement and the exiled Hadi government is forthcoming
Short URL: https://me-confidential.com/?p=9986
Posted by
Peter Mulvany
on Jul 3 2015. Filed under
Gulf News
,
Headlines
. You can follow any responses to this entry through the
RSS 2.0
. Both comments and pings are currently closed.