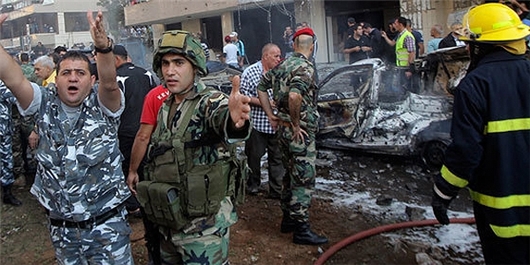 Two explosions rocked the Iranian embassy in Lebanon and the attack is being critically reviewed as Tehran suspects that foreign elements played a role. The attack has been claimed by Abdullah Azzam Brigades, Lebanese based group linked to Al-Qaeda, and boasts that more will follow. Iran's cultural attaché, Ebrahim Ansari, was killed in the attack. Fingers are being pointed towards Israel as investigations begin.
Although the attackers failed to penetrate the embassy compound, they have left more than 20 people dead and more than a hundred injured. The group has signaled that attacks will continue unless Iranian forces are out of Syria and members of their group released from Lebanese prisons.
Lebanon has promised to "arrest and punish the perpetrators". Sirajeddin Zreikat, a member of Abdullah Azzam Brigades, posted on twitter that the attacks were a "double-martyrdom operation…from the heroic Sunnis of Lebanon".
President Rouhani told his Lebanese homologue, Michel Suleiman, that "such incidents cannot divide the Lebanese people and the officials". Rouhani said the attack was an act of provocation committed by "the extremists and foreign elements" dedicated to destabilizing "the region and Lebanon".
Iranian Foreign Ministry spokeswoman Marzieh Afkham accused the "Zionists and their mercenaries" of being behind such an "inhumane crime". She said the ministry is following developments with "sensitivity and special care".
Israeli lawmaker Tzachi Hanegbi said "Israel was not involved in the past and was not involved here".
Syria believes that the attack was carried out by the "reek of petrodollars".
Ali Mikdad, a Hezbollah politician, told the local Lebanese staion, Al-Mayadeen TV that they know "who carried out the attack, you will not be able to break us. We got the message and we know who sent it and we know how to retaliate".