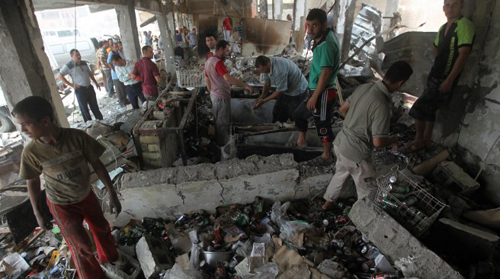 At least 48 people were killed and dozens wounded in a series of car bombings, shootings and suicide-attacks that rocked Thursday several regions of Iraq.
These deadly coordinated attacks, which raised fears that the country could slip back into chaos and sectarian violence, targeted security forces deployed in checkpoints mainly in Shiites zones.
There were no claims of responsibility for these blasts which ripped through the capital of Baghdad, Baquba, and the provinces of Salahuddin, Kirkuk and Babel.
Showdown between Iraqi Sunnis and Shiites has intensified since the withdrawal of American forces. Political and sectarian violence has escalated as these two major factions are fighting power and influence.
The Sunnis, who were the dominant political forces under Saddam Hussein, feel currently sidelined by the Shiite-led government of Nor Al-Maliki.
Rather than decreasing sectarian tensions, the Iraqi PM appears to be pouring fuel on the fire, taking controversial decisions targeting the Sunnis. He has arrested over 600 alleged former Baathists, "suspected of plotting against the central government".
Al Maliki also issued a warrant for the arrest of Vice-President Tariq al-Hashemi (Sunni), accused of financing hit squads. Mr Hashemi, who denies the charges, has fled to Iraqi Kurdistan where the regional government refuses to hand him over.