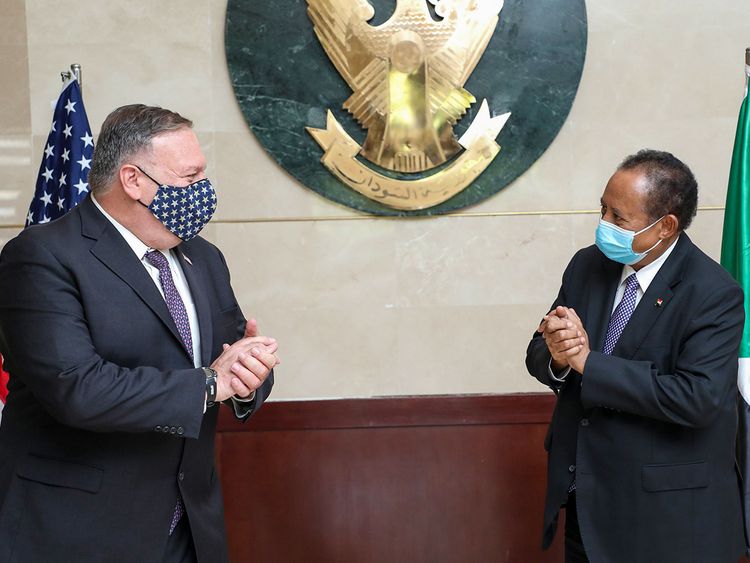 This measure was taken in 1993 to punish Sudan for harbouring Osama Bin Laden and several Al Qaeda militants. Khartoum was accused of complicity in certain terrorist operations. With this decision, it is the end of a long wait for the Sudanese.
Sudan has been on this list for 27 years. A sanction that cut the country off from part of the international financial system at a time when its economy is in crisis. This changed with the fall of the dictatorship of Omar al-Bashir. The new government has made it a priority to remove the country from the list. It has given pledges of goodwill. Washington and Khartoum have come closer together.
Then everything accelerated when, on 19 October, Donald Trump announced that he intended to remove Sudan from the list in exchange for compensation for the victims of the 1998 attacks on the American embassies in Kenya and Tanzania, as well as the attack on the ship USS Cole in 2000. And Khartoum has done so. The government paid $335 million
On 26 October, the US President therefore sent the withdrawal request to Congress, which had 45 days to raise objections. That didn't happen, so Mike Pompeo, the Secretary of State, signed the document endorsing the lifting of the sanction.
Sudan now hopes to get its head above water economically. The country is undergoing a very serious crisis, with fuel and food shortages and galloping inflation. This sanction prevented Sudan from obtaining loans from international institutions or relief of its foreign debt, which amounts to more than 60 billion dollars.
All this will change. Sudan will return to the international arena, both economically and politically. With perhaps the end of its pariah status. The Sudanese Prime Minister also explained that after "three decades of isolation, Sudan has officially joined the international community. "Abdalla Hamdok evoked new possibilities to "reform the economy, attract investment, create opportunities especially for young people," etc.
This lifting of sanctions will also lead to a rapprochement with Israel. It was another American condition: that Sudan in turn recognize the Jewish state. This Sudan had accepted, adding that it would not do so until it was definitely removed from the list. We could therefore move towards a formal agreement signed by the Sudanese and the Israelis endorsing the normalization of their relations.
However, this announcement will not solve all of Sudan's problems, as the issue of the country's sovereign immunity has yet to be resolved, i.e. to prevent anyone from taking further legal action against Khartoum for its terrorist past. This is what the families of the victims of the attacks of 11 September 2001 would like to do, even though Sudan's role in these attacks has never been proven. Some elected officials, including the leader of the Democratic majority in the Senate, Chuck Schumer, support the victims and do not want to give Sudan back its sovereign immunity.