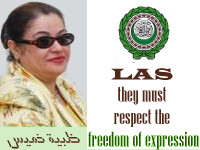 A high-profile Emirati poet and former diplomat has said authorities have banned her from traveling out of the country in an apparent connection with her opposition to normalization with Israel.
Dhabiya Khamis Al-Muhairi on a Facebook post said she has been prevented from boarding a Cairo-bound flight at Dubai international port.
"I am Emirati writer Dhabiya Khamis. I was banned from flying today due to an order from Abu Dhabi without specific reason," she wrote.
"Most likely this is because of my publicly announced position against the Zionists and normalization and I am fearful for my freedom and life from threats and arrest."
The 62-year old poet also worked as diplomat for the Arab League.
In a Twitter post, she likened her arrest to her previous arrest back in 1987.
"When I was abducted from my home and held in solitary confinement for months without charge or court proceedings in 1987 over an article I wrote, I left the UAE and lived abroad for 30 years…It looks like we are returning to 87," she wrote.
Khamis urged international rights groups to pressure the UAE government and hold it responsible for "any oppression, arrest, assassination or liquidation I am subjected to".
The ban is part of the UAE's crackdown on opposed views on the September 15 normalization deal between the Gulf country and Israel.
Twitter accounts linked to the government reportedly called on security services to monitor social media posts of residents opposed to normalization.
Other accounts promoted an app called "My Safe Society", which encourages users to report "ideas which threaten the safety of UAE society", The New Arab reports.
The UAE's deal with Israel broke decades of the consensus among Arab countries to refrain from thawing ties with Israel until the Palestinian statehood is recognized.
Bahrain also joined the signing organized at the White House, in Washington.