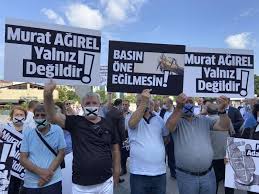 A Turkish court has maintained in detention three journalists facing prison sentences for revealing the identity of state spy agents who died in Libya where Ankara backs militarily the Government of National Accord (GNA).
The reporters have been detained since early March pending trial. One of them, Murat Agirel of the Yenicag newspaper said in a statement: "With these nonexistent charges, I have been held alone in a cell in prison for 120 days. The charges against me are neither based on tangible evidence nor conscientious. … The MIT officer was reported about on social media before I wrote [about] it."
The MIT is the Turkish intelligence service. One of its agents reportedly died in Libya, killed by rebel forces led by Field Marshall Khalifa Haftar.
Turkey since December last year has been militarily active in Libya on the side of the GNA, to push back the offensive launched in April by Khalifa Haftar's forces to seize the Libyan capital.
Ankara has sent troops as well as Syrian mercenaries to prop up the GNA.
On March 5, Middle East Monitor (MEMO) reports, Interior Minister, Suleyman Soylu, told a local TV station that under Turkish law, people who obtain documents and information concerning the country's intelligence operations shall be sentenced to between two and eight years in prison with hard labor or a more severe punishment.
The three journalists will re-appear in court on September 09. Three other reporters also held in connection with the case have been freed.
Turkey is known for harassing journalists. Can Dundar, former editor-in-chief of opposition newspaper Cumhuriyet, fled to Germany in 2016 after a court convicted him of espionage over a story about MIT arms shipments to Syrian opposition groups.
There are currently according to the Committee to Protect Journalists (CPJ), 47 journalists held in Turkish prisons – the second highest number in the world behind China.