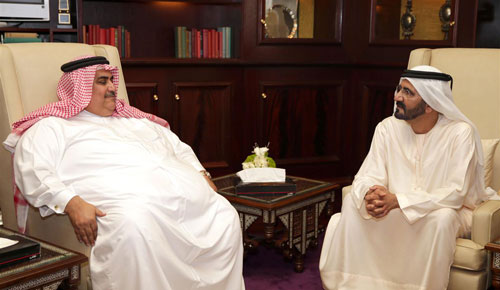 Bahrain Sunday criticized Qatar after the tiny gas-rich country's ruler Sheikh Tamim bin Hamad Al Thani chose not to attend the Gulf Cooperation Council (GCC) hosted by Saudi Arabia who is leading the boycott against it.
The regional bloc summit kicked off Sunday with the presence of all leaders of the member countries except Sheikh Tamim despite being officially invited by King Salman who welcomed his peers.
The Qatari leader was represented by state minister in charge of foreign affairs, Sultan bin Saad al-Muraikhi, a sign that the diplomatic spat that sparked out June last year is not soon over despite international calls and mediation for an end of the row which has cracked the organization formed in 1980 in view of countering the influence of Iran.
"Qatar's emir should have accepted the fair demands (of the boycotting states) and attended the summit," Bahraini foreign minister Sheikh Khalid bin Ahmed Al Khalifa said in a tweet.
Qatar hit backed blasting leaders of other countries for shunning last year summit in Kuwait where Sheikh Tamim was in attendance.
"Qatar can make its own decisions and had attended [last year's] Kuwait summit while the leaders of the boycotting countries did not," Ahmed bin Saeed AlRumaihi, director of the information office at Qatar's foreign ministry said.
The Riyadh summit coupled with the invitation from the Saudi kingdom was viewed as an opportunity to defuse the diplomatic tension and to remove the sea/air/ground blockade on Qatar.
In a sign of a continuation of the crisis, Qatar this month announced it is leaving next January the oil exporters' group, OPEC.
The tiny wealthy country said it could not afford to remain a member of the organization that is dominated by a country, in a reference of OPEC's largest producer and exporter, Saudi Arabia.