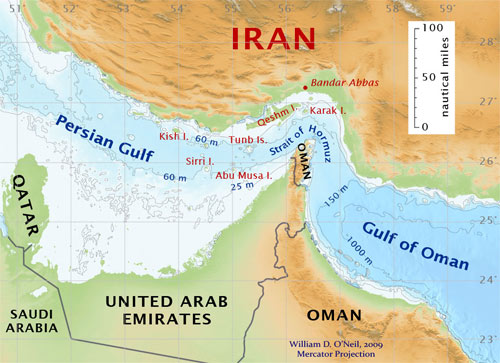 Iran is deploying forces and military personnel for major naval drills in the Strait of Hormuz that it threatened to block in retaliation, in the event the U.S. disrupts the sale of Iranian oil.
"We are aware of the increase in Iranian naval operations within the Arabian Gulf, Strait of Hormuz and Gulf of Oman," Navy Captain Bill Urban, the chief spokesman at Central Command, which oversees U.S. forces in the Middle East, told Reuters on Wednesday.
"We are monitoring it closely, and will continue to work with our partners to ensure freedom of navigation and free flow of commerce in international waterways," Urban added.
Military officials in Iran have threatened to block oil shipment in the Strait of Hormuz, which is a major global waterway for tanks carrying oil. The disruption will seriously undermine Iran's ailing economy at the time national currency, Rial, has plumbed new depths this week.
The threats came after Washington urged countries to boycott oil purchases from Iran by November 4.
The U.S. is planning to impose news economic sanctions on Iran after President Trump in May withdrew the U.S. from the 2015 nuclear accord signed between Iran and world powers.
According to some U.S. officials who asked not be named, the drills could take place in the next 48 hours, ahead of the originally set timing; sometime later this year. They also told Reuters that the Revolutionary Guards appeared to mobilize more than 100 vessels and hundreds of ground forces for the exercises.