Iranian Supreme leader to western powers: demand to curb ballistic missile program, unrealistic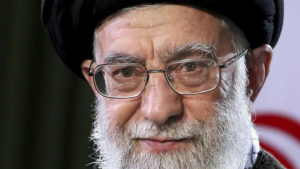 Iran's supreme leader Monday brushed off the demand by the US and its European allies that the Islamic republic calls time on its ballistic missile program as he argued that the demand is a dream that will not come true. Tehran will continue supporting oppressed nations, he said.
"Some Europeans are talking about limiting our defensive missile program. I am telling the Europeans, 'Limiting our missile work is a dream that will never come true," Ayatollah Ali Khamenei said in a televised speech.
Tensions between Iran and western powers have re-surfaced after US President Donald Trump last month withdrew his country from the 2015 nuclear deal signed between Iran and world powers. The deal lifted economic sanctions but required that Tehran put hold on its nuclear enrichment program believed for military purpose.
Trump tore the deal that he argued failed to contain Iran and to limit its influence in the Middle East region. The US leader called for a review of the agreement to tackle Iran's ballistic missile program and curtail its influence in the region.
France, the United Kingdom (UK) and Germany agreed with Trump but have indicated the deal though bad, is however better than nothing.
The Iranian supreme leader also vowed his country's response in the event of foreign intervention.
"Our enemies have staged economic and psychological … warfare against us and new American sanctions are part of it," Khamenei also told a gathering to mark the 29th anniversary of the death of Iranian revolutionary leader Ayatollah Ruhollah Khomeini.
"Tehran will attack 10 times more if attacked by enemies … The enemies don't want an independent Iran in the region … We will continue our support for oppressed nations," he said.
Short URL: https://me-confidential.com/?p=19597
Posted by
KanelkaTagba
on Jun 5 2018. Filed under
Headlines
,
World News
. You can follow any responses to this entry through the
RSS 2.0
. Both comments and pings are currently closed.