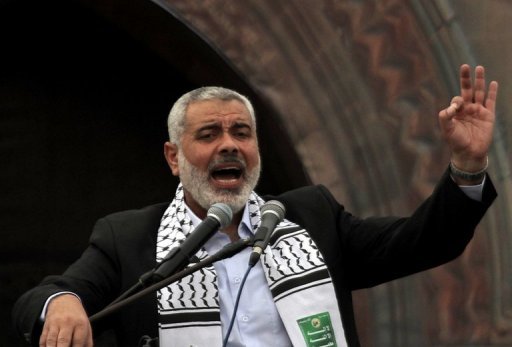 The US State Department Wednesday announced the inscription on the US list of terror groups and individuals of Ismail Haniyeh, leader of Gaza-based Hamas movement that it accuses of the killing of 17 American citizens.
The State department claimed Haniyeh has close links with the Islamist movement that has been put on the US blacklist since 2007.
"Haniyeh has close links with Hamas' military wing and has been a proponent of armed struggle, including against civilians. He has reportedly been involved in terrorist attacks against Israeli citizens. Hamas has been responsible for an estimated 17 American lives killed in terrorist attacks," the State Department said.
Haniyeh is designated as Specially Designated Global Terrorist (SDGT). Individuals or groups designated SDGTs are banned from entering the US and will have their assets in the US frozen.
US citizens and groups should refrain from engaging in any transaction with the SDGT individuals or groups.
55-year old Haniyeh was elected in May the top leader of Islamist movement, succeeding Khaled Meshaal. Known for his pragmatism, Haniyeh is also reportedly one of the movement's moderate figures. He was former leader of the Hamas in the Gaza strip.
The Islamist movement swiftly rejected the US listing of its leader on the terror list, the New Arab reports.
"As if we Palestinians require a certificate of good conduct from America," said the movement spokesman Hussam Badran.
The US Wednesday decision could further hype tension in Palestinian territories amid more than one-month old grudge against the Trump administration.
US President's December decision recognizing Jerusalem as capital of Israel sparked fury among Palestinians and Muslim leaders around the world.
Hamas had contemplated a new intifada as a response to Trump's decision.