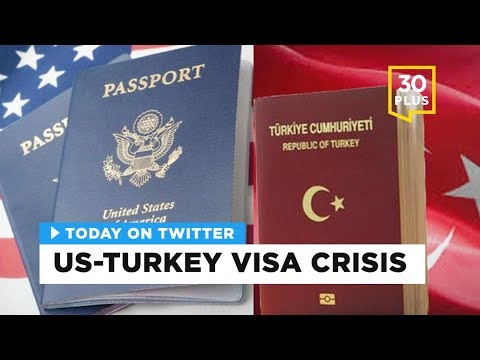 Visa issuance between the United States and Turkey will resume at full swing after the US embassy Thursday said it received guarantee that no staffer at the mission will be targeted again by investigation.
"Based on adherence to these assurances, the Department of State is confident that the security posture has improved sufficiently to allow for the full resumption of visa services in Turkey," the US Embassy in Ankara said.
The mission also noted that it is still concerned about the situation of the two personnel still detained and added that the Turkish government gave assurance no local staff will be detained or arrested for performing their official duties and that Turkish authorities will inform the U.S. government in advance if any local staff face detention.
US embassy in October suspended non-migrant visa to Turkish citizens to protest the detention of one its staff. The staffer, Metin Topuz, was arrested for alleged links with FETO; a movement aligned with US-based Turkish cleric Fethullah Gulen.
Ankara views the movement as a terror group and blames Gulen for being behind last July failed military coup.
The Turkish embassy in the US upon suspension of the visa delivery process also halted issuing visa to US citizens.
The US-based Turkish embassy also on Thursday announced lifting of visa restrictions but rejected assurance claims as noted by the US mission.
"We find it wrong to misinform the Turkish and the American public by claiming that the U.S. received assurances from Turkey," the statement said.
It also added that Ankara was concerned about legal case in the US involving Turkish citizens, reports say.
The visa incident put the already frosty relations between the two NATO allies into turmoil. Ankara is at odd with the US over its military support for Syrian YPG fighters. Turkey views the YPG as branch of PKK insurgency opposed to Ankara.
Foreign ministers of both countries, namely Turkey's Mevlüt Çavuşoğlu and his US counterpart Rex Tillerson held telephone conversation following the removal of the visa restrictions.