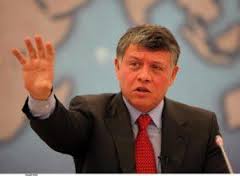 Jordan is unwilling to allow the return of Israeli Ambassador to Amman unless the Israeli security official, involved in the killing of two Jordanians, is tried in court.
Ambassador Einat Schlein and guard Ziv Moyal are both in Israel after the July 23 incident that strained ties between Tel Aviv and Amman.
Moyal claimed he was attacked with a screwdriver before he opened fire killing the attacker and a bystander.
The head of the Jordanian parliament's Palestine Committee, Yahya al-Saud, is highly critical of the ties that exist between the two countries, describing the relationship "like a five star hotel – it only benefits the heads of the country and not the average person."
Saud said "an order was issued banning the Israeli ambassador in the absence of an initial investigation in Israel over the actions of the security guard."
Moyal was accorded a hero's welcome on his return to Israel by Prime Minister Netanyahu. The welcome was deemed "unacceptable and provocative" by King Abdullah.
Israel has begun investigations into the matter. It was hailed by the Jordanian speaker of parliament as a "step in the right direction" before adding that "justice must be served".
Yahya al-Saud, for his part, demanded that "Jordan must be involved and kept aware of the proceedings."
Spokesman Hassan Ka'bia of the Israeli Foreign Ministry claimed that "there are no issues between Israel and Jordan" and that two sides are to meet next week together with the Palestinian Authority to "discuss the borders."
About the shooting incident at the compound of the Israeli embassy in Amman, he explained that "the investigation is ongoing" and Jordanian authorities will be informed of the findings "in accordance with the law."
Saud noted that the return of Ambassador Schlein depends on "guarantees of a serious and thorough investigation of the embassy guard and the bringing of him to trial."