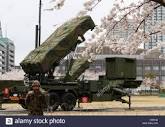 The US government announced Thursday it had approved the sale of $2 billion worth of arms to the United Arab Emirates.
The State Department approved the sale of 60 Patriot Advanced Capability 3 missiles and 100 Patriot Guidance Enhanced-Tactical (GEM-T) missiles to the UAE, said the Defense Security Cooperation Agency in a statement.
The UAE government has requested the possible sale of 60 Patriot PAC-3 missiles with canisters made by Lockheed Martin and 100 Patriot guidance enhanced missiles made by Raytheon, among other military equipment, said the Agency, which oversees America's foreign arms sales, in the statement.
It said the proposed sale would "contribute to the foreign policy and national security of the United States by improving the security of an important ally which has been, and continues to be, a force for political stability and economic progress in the Middle East".
Congress was informed of the sale Wednesday, the statement said, noting that the package will also include US government- and contractor-provided technical, engineering and logistics support services.
The sale "will enhance interoperability with US forces and increase security," the statement said, underscoring that "these missiles will not alter the basic military balance in the region."
The UAE was the second-biggest destination for American arms exports from 2012 to 2016, ranking only behind Saudi Arabia, according to the Stockholm International Peace Institute, which tracks information on weapons transfers.
The wealthy Gulf state was the third biggest weapons importer worldwide during that same period, following India and Saudi Arabia.
The statement on the arms sale was released just few days after the White House announced last Tuesday that US President Donald Trump will meet with Abu Dhabi crown Prince Sheikh Mohammed bin Zayed Al Nahyan in Washington on Monday, May 15.
Washington "sees the visit as an opportunity to deepen cooperation with a key partner in the Middle East," the White House said.
The meeting with Sheikh Mohammed, who is also Deputy Supreme Commander of the Armed Forces, will take place a week before the US President departs for his first foreign trip since he took power. The trip will take him to Saudi Arabia, Israel and the Vatican.