Israel, three European countries agree to build World's longest undersea gas pipeline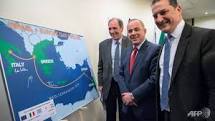 Israel, Italy, Greece and Cyprus have agreed to build the longest undersea gas pipeline in the world worth around $6.2 billion.
The pipeline is expected to be completed in 2025 and feasibility studies have already been completed. The project is expected to help Europe diversify its gas supply and reduce its dependency on Russia, especially in view of the rising tensions between the European Union member states and Kremlin.
The 1300 kilometer undersea pipeline will facilitate the exportation of gas from Israel's Leviathan offshore natural gas field to the European market.
Israel's energy minister Yuval Steinitz said commitment towards the "ambitious project" marks "the beginning of a wonderful friendship between four Mediterranean countries."
Cyprus would also benefit from the project as it also extracts gas from its offshore fields and considers it as an opportunity to widen its market.
EU's Commissioner for Climate Action and Energy, Miguel Arias Canete, who was attending the meeting in Tel Aviv, thinks that Israel and Cyprus are "very reliable suppliers." He added that the region's supply is "a vital source" that can "make a valuable contribution to our strategy to diversify sources, routes and suppliers."
Canete said EU members would fully support the project that would help to make the region "a future gas supplier." He observed that "the potential resources of this region are very significant."
The cost of the pipeline has been an area of concern amid the low oil and gas prices. Chief Executive Elio Ruggeri of IGI Poseidon said the financial aspect of the feasibility studies are based on expectations that prices will increase again.
Italy's Economic Development Minister Carlo Calenda wants the implementation of the project to be accelerated because it is a "clear example of how we can diversify the supply in Europe and in Italy" and has the potential to be "a real pillar of our energy strategies."
Short URL: https://me-confidential.com/?p=15542
Posted by
meconfident
on Apr 3 2017. Filed under
Energy
,
Headlines
,
World News
. You can follow any responses to this entry through the
RSS 2.0
. Both comments and pings are currently closed.