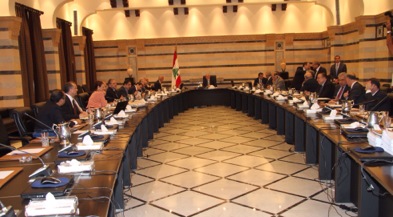 The Lebanese cabinet approved a budget plan for 2017 and the draft will be forwarded to the parliament for ratification.
Details of the draft budget will be revealed by the Finance Minister on Thursday but Foreign Minister Jebran Bassil hinted that "new elements to promote tax justice and abolish protected monopolies were introduced."
Tax reforms have been a dividing issue especially among the population's lower and working classes but Bassil explained that "three old demands of the bloc namely the tax on real estate profits, raising taxes on bank profits and bank interests" are affected.
The last time Lebanon had a budget ratified by the parliament was 12 years ago. The latest approval by the cabinet is considered as a major step by observers and there is optimism that it will be supported by the Parliament, which has not passed a budget since 2005.
The budget deficit is forecast at $5.2 billion, or 9.54% of gross domestic product, on spending of $15.8 billion, according to the draft released last year. However, it seems as if it has been reduced after Information Minister Melhem Riachi said "the deficit was greatly decreased through the debate that took place today (Monday)."
The budget draft is being hailed by Bassil as "the first foundation for reform and financial regulation in the country."
Political differences between the political parties have kept the country in a political impasse for years. The cabinet's approval of the draft budget has been welcomed as "another achievement" by political commentator, Rosanna Bou Monseh. Nevertheless, she noted that the draft "falls short in terms of proposing structural reforms to limit corruption, to address growing debt, and place restriction on spending."