Lebanon: PM Hariri Says "Rift" with President Aoun Over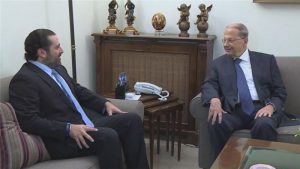 After meeting President Michel Aoun on Monday, Prime Minister Saad Hariri stated that "there will be no rift from now on at the level of the executive authority" as he gave assurances that they will be "in daily contact… to discuss the various issues and problems that Lebanon is facing."
The prime Minister renewed his commitment to reach an agreement on a new electoral law ahead of the parliamentary elections and claimed that "major progress has been made in this direction." Several political parties expressed doubt about reaching a consensus assuring that the country's religious denominations do not feel sidelined by it.
Aoun had stated that he is against holding elections under the 1960 electoral law and did not rule out organizing a popular referendum to have a new electoral law if political parties continue to disagree over it. He had warned that he prefers a parliamentary "vacuum" than using the current electoral law while remaining optimistic that a new law will "ensure fair popular representation for all Lebanese."
The run-up to the parliamentary election has been a burning issue. Hezbollah and al-Mustaqbal Movement do not want it to be delayed. At their 40th bilateral dialogue session, they stressed that "holding the elections on time" and within the "constitutional timeframe" will help to "preserve security and political stability." The country has not organized parliamentary elections since 2009 and the legislature has instead twice extended its own mandate. The last polls were held under an amended version of the 1960 electoral law and the next vote is scheduled for May.
Foreign Minister Gebran Bassil thinks that the failure to reach an agreement on a new electoral law is "shameful." He said a new law would help to "develop our political life" as he deemed the 1960 electoral law outdated.
Short URL: https://me-confidential.com/?p=15021
Posted by
Peter Mulvany
on Feb 7 2017. Filed under
Headlines
,
World News
. You can follow any responses to this entry through the
RSS 2.0
. Both comments and pings are currently closed.