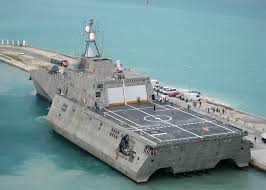 The new US Navy Littoral Combat Ship designed to operate in shallow waters showed shortcoming and vulnerabilities during the tests.
The flaws were revealed by head of the Pentagon weapons testing team, Michael Gilmore, in an annual report on major weapons to the congressional defense committees.
The Pentagon official doubted the capability of the new combat ships after they struggled at-sea drills wherein small boats similar to that were used by the Iranian navy in the Persian Gulf.
The strategic Persian Gulf is one of the highly contested waters in the world.
26 ships are currently under contract in a $23 billion U.S defense program but the report highlighted that the two versions made by Lockheed Martin Corp and Austal for shallow waters showed vulnerabilities during tests and the crew couldn't rely on them.
Gilmore noted that during the drills, attacking boats were able to penetrate the ship's "keep-out range" raising doubts about its "ability to deal with more challenging threats." The crew also struggled with repeated network communications defaults that disrupted information to gun systems thereby interrupting firing more than twelve times. Generators, water jets and air conditioning units also had repeated failures.
The report did not name Iran but it is the only country that uses small ships in the Persian Gulf. According to Tehran, these ships provide an advantage in maneuverability, speed and agility in combat situations and are more efficient than big ships if used in significant numbers.