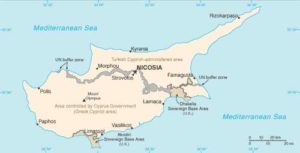 Turkey has started onshore drilling for oil and gas on the disputed island of Famagusta that it is engaged in with Cyprus. Cyprus described the action as a violation. Since 1974, Cyprus has been, divided when Turkish troops occupied its northern part in response to a Greek inspired coup in Nicosia.  The northern party will finally break away after this but it is not internationally recognized; only the Republic of Cyprus is.
Turkey's action is seen as a counter attack to the agreement reached last year between the Republic of Cyprus and Noble Energy, an American company, to explore offshore natural gas that the former considers to be at the detriment of Northern Cyprus. Ankara doesn't recognize the government of the Republic of Cyprus.
The drilling at Famagusta is being carried out by the state-run Turkish Petroleum Corporation near the town of Trikomo. The depth of the drill is estimated to be 3 km and the opening ceremony was attended by the Turkish Energy Minister. It followed after an agreement was made last year between Prime Minister Recep Tayyip Erdogan of Turkey and Eroglu.
The Cypriot government has called upon Turkey and the Turkish Cypriot leadership to stop such actions because they "are violating the law by going ahead with the drilling". Greece expressed similar feelings while describing the move as an invasion and an occupation of an independent state. It emphasised on the respect of the UN resolutions and the existence of member states because such an action was illegal.
Talks have been going on to find a peaceful solution to the dispute but as, it stands, progress is yet to be made on the stalemate as both sides are reluctant.