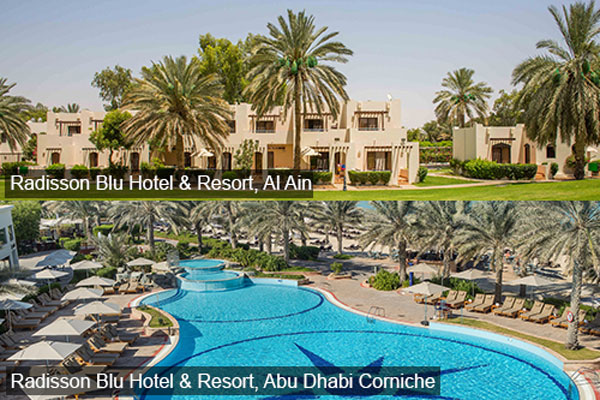 Radisson Hotel Group's Radisson Blu brand has opened two hotels; Radisson Blu Hotel & Resort, Abu Dhabi Corniche and Radisson Blu Hotel & Resort Al Ain.
The move according to the group is motivated by the standing of Abu Dhabi as a flourishing destination "with significant investment going into demand generators for the tourism sector – from cultural landmarks to entertainment and leisure offerings. We're proud to be playing a supporting role in this evolution."
"We're delighted to begin 2019 in such a positive manner with the opening of these amazing properties in the UAE, arriving under the upper upscale Radisson Blu flag," said Tim Cordon, area senior vice president, Middle East and Africa, Radisson Hotel Group.
Located on the vibrant and iconic sea walk of Abu Dhabi, Radisson Blu Hotel & Resort, Abu Dhabi Corniche offers beautiful views of the littoral in the Emirati capital. The hotel features 327 spacious rooms and suites, nine restaurants providing several choices of international cuisines, including the three swimming pools, spa, fitness center and a beach club.
Radisson Blu Hotel & Resort, Abu Dhabi Corniche also has meeting and events space that accommodate 10 to 2,000 guests, with 14 meeting rooms, two ballrooms and outdoor facilities.
Radisson Blu Hotel & Resort Al Ain on the other hand is established in the UAE's Garden City. The hospitality facility offers guests with the "opportunity to enjoy an authentic UAE experience away from the urban buzz of the main cities."
The new hotel features 210 rooms including a range of suites, villas and studios – as well as six restaurants and four bars. With an event place covering 1,070-sq-m, the hotel also exhibits a ballroom that can host 650 guests or the garden area.
Khalid Anib, chief executive officer, Abu Dhabi National Hotels welcomed the launches noting that the guests of the two hotels will enjoy many memorable moments at our hotels, whilst discovering all that Abu Dhabi and Al Ain has to offer.