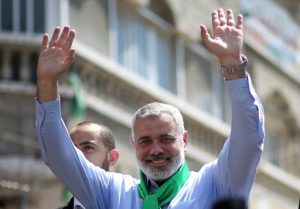 The Israeli army said Friday it hit a Hamas position in Gaza Strip after the Islamist movement allegedly launched a missile late on Thursday towards the Jewish state.
An Israeli aircraft hit a position of Hamas in the enclave in response to rocket attacks, the Israeli Defense Forces (IDF) said in a statement relayed by local Times of Israel.
The army said it holds Hamas responsible for what "takes place in Gaza Strip and what emanates from it."
It did not however specify what position of the Islamist movement was the target. Hamas did not comment on the air strike.
Siren system announcing Hamas-launched projectiles into Israel were not heard as opposed to Monday incident when the sirens were triggered but turned out to be a false alert. The sirens sounded near Gaza boarder but no rocket impact was found, Times of Israel reports.
The alleged Hamas attack on Israel and the response from the Jewish state are the latest incidents between Israel and the Palestinian movement since Wednesday after the US State Department put Hamas's overall leader Ismail Haniyeh on its terror list.
Haniyeh is accused of association in the killing of 17 American citizens.
Listed Specially Designated Global Terrorist (SDGT), Haniyeh will see his assets in the US seized if he has any. The decision also bans him from traveling to the US and all American entities or individuals are prohibited from dealing with him.
Hamas rejected the US list. The movement itself has been on the US terror list since 2007.