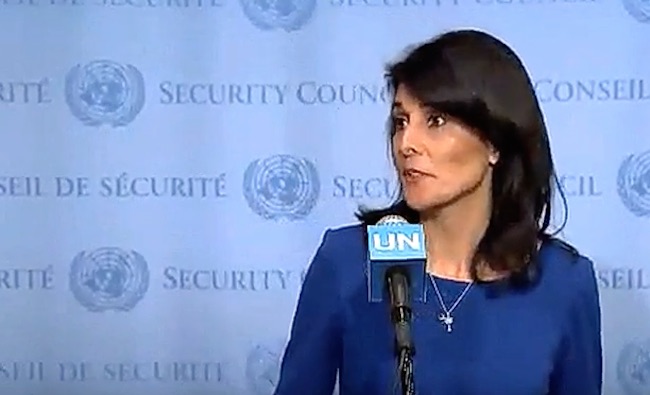 US envoy to the UN Tuesday expressed Washington's full endorsement for the days of unrest saying that it would seek a UN emergency meeting on the crisis after calling the protests 'demonstration for freedom'.
Nikki Haley joined her boss Donald Trump in standing by the six-day unfolding protests which have spiraled into unrest with 21 deaths reported by authorities since the beginning.
"The people of Iran are crying out for freedom," she said.
"All freedom-loving people must stand with their cause."
The US diplomat said the United States would be seeking emergency sessions of the UN Security Council and the Geneva-based UN Human Rights Commission in the coming days.
The Islamic Republic has been embroiled since Thursday in protests which started with economic grievances but quickly turned into demonstration against the regime.
21 people including one police officer and young member of the powerful Revolutionary Guard have died since the start of protests. The police officer was killed by a shot from a hunting rifle, near the city of Najafabad.
Nine people including the member of the Revolutionary Guard were killed on Monday as demonstrations built up. Most protests are taking place in provincial towns and cities. Capital Teheran witnessed sporadic protests but remains relatively calm.
Authorities say rioters attempted to take control of police stations. President Hassan Rouhani Sunday tried to calm the situation as he acknowledged the rights to protest but vowed state response to lawbreakers.
Haley lambasted Supreme Leader Ayatollah Ali Khamenei's comments blaming Iran's enemies for fomenting the protests.
"We all know that's complete nonsense," she said.
"The demonstrations are completely spontaneous. They are virtually in every city in Iran. This is the precise picture of a long oppressed people's rising up against their dictators."
The Iranian leader Tuesday during a weekly address to war widows and their families said he would talk to the nation "when the time is right".
"What can stop the enemy from acting is the spirit of courage, sacrifice and faith of the people," he said.
President Trump has been following the development in Iran. He tweeted that the US is watching.
"The people of Iran are finally acting against the brutal and corrupt Iranian regime… The people have little food, big inflation and no human rights," he wrote.