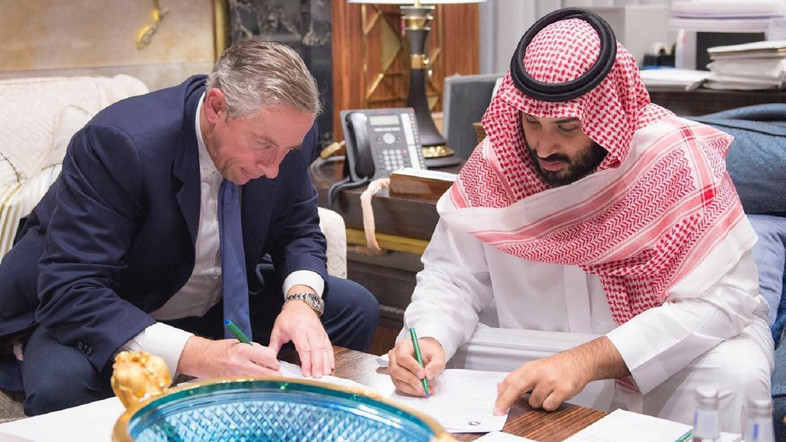 Ambitious Crown Prince Mohamed bin Salman (MBS) has told Bloomberg that his dreamed future artificial and internet connected city will not compete with regional and global hub Dubai but will rather complement it.
Named Neom, a short form of Neo-Mustaqbal, a Latin-Arabic term meaning ''New Future', the artificial intelligence city will make Saudi Arabia one of world class cross-roads laying few miles away from the Emirati city of Dubai known today as one of the world's most busiest city and with the most busiest airport in the world after Atlanta and Beijing.
As initiator of the idea for future mega city to cost $500 billion, the 32-year old Crown Prince in an interview with Bloomberg on the sideline of the launch of the city stressed that other fast growing cities in the Middle East will benefit from the project that will help to further grow economically.
"It will help Dubai, it will help Bahrain. It will help especially Kuwait. Kuwait will export to Europe faster and cheaper than now through the pipelines and the railways to Neom, immediately to Egypt, to the north of Sinai, to Europe,'' he said.
Dubai dominates the world's container and aircraft traffics with a target of 70 million flight passengers set this year by Dubai airport operators.
The new Saudi city to sprawl over 26,500-square kilometers will be funded by country Public Investment Fund. The future floating of country biggest company Ramco will enable to generate the needed funds for the project which will be led by former chief of US engineering firm Arconic, Klaus Kleinfeld
Kleinfeld will be assisted by a team of more than 100 people from around the world.
The future city will be alcohol-free; the Crown Prince said adding that a foreigner who desires to alcohol can either go to Egypt or Jordan, two countries to see the project expansion on their soils.