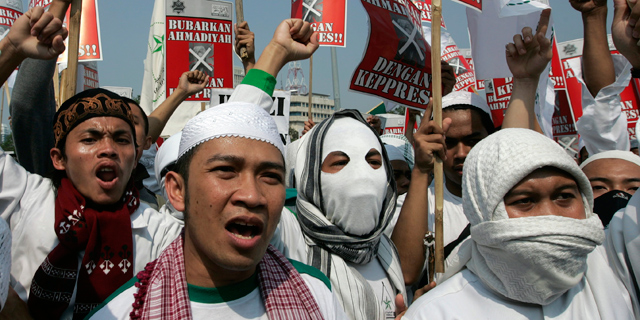 The Algerian police Wednesday announced the arrest of 12 members of Ahmadiyya religious community accused by authorities for promoting the outlawed movement.
The men were arrested at Chlef, north of the country, the national police announced in a statement aired on radio.
"Members of this movement were in possession of documents promoting their doctrine," the police said in the statement.
The leader of the movement who has not been named and other four members have been locked up while four have been placed under court supervision. The three others have been freed, reports say.
A court has sued the movement for creating association without authorization, crime against Islam and proselytism.
The Ahmadiyya movement was founded in Punjab, India, in the 19th century. It preaches the teachings of Mirza Ghulam Ahmad (1835–1908) and rejects claims that Prophet Mohamed is the last Prophet.
The movement, outlawed by Saudi Arabia-based Organization of Islamic Cooperation (OIC), reportedly appeared in Algeria in 1990s and boasts hundreds of members in the country.
It is the first time Algerian authorities are cracking down on the movement. Authorities arrested dozens of the community members across the country several weeks ago, according to local reports.
London-based Amnesty International in its 2016 report has slammed Algerian authorities for persecuting Algerians of other religions or Algerian Muslims not belonging to Sunnite Islam.
"Authorities have targeted members of the Ahmadiyya community, arresting more than 50 people in the Blida and Skikda governorates and elsewhere in the country for their faith," the NGO said.