Middle East Demand Drives Global Arms Trade to Highest Levels since Cold War, SIPRI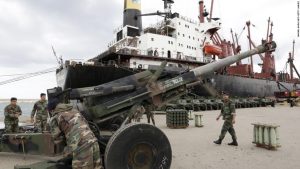 Worldwide arms trade has risen to its highest level since the Cold War in the past five years, driven by the increasing demand from the Middle East and Asia, a study said on Monday.
The volume of international transfers of major weapons has grown continuously since 2004 and increased by 8.4 per cent between 2007–11 and 2012–16, according to new data on arms transfers published Monday by the Stockholm International Peace Research Institute (SIPRI).
Transfer of major weapons in 2012-16 reached their highest volume for any five-year period since the end of the Cold War, says the Institute.
The flow of arms increased to Asia and Oceania and the Middle East between 2007–11 and 2012–16, while there was a decrease in the flow to Europe, the Americas and Africa.
The share of countries in the Middle East and the Arabian Gulf jumped from 17 per cent to 29 per cent, far ahead of Europe (11 per cent, down seven points), the Americas (8.6 per cent, down 2.4 percentage points) and Africa (8.1 per cent, down 1.3 points).
"Between 2007–11 and 2012–16 arms imports by states in the Middle East rose by 86 per cent and accounted for 29 per cent of global imports in 2012–16."
According to the SIPRI data, Saudi Arabia was the world's second largest arms importer in 2012-16, behind India, with an increase of 212 per cent compared with 2007–11, while arms imports by Qatar went up by 245 per cent.
Although at lower rates, the majority of other states in the region also increased their arms imports. "Over the past five years, most states in the Middle East have turned primarily to the USA and Europe in their accelerated pursuit of advanced military capabilities', said Pieter Wezeman, Senior Researcher with the SIPRI Arms and Military Expenditure Program.
"Despite low oil prices, countries in the region continued to order more weapons in 2016, perceiving them as crucial tools for dealing with conflicts and regional tensions," the searcher explained.
The five biggest exporters—the United States, Russia, China, France and Germany—together accounted for 74 per cent of the total volume of arms exports, the data show.
"With a one-third share of global arms exports, the USA was the top arms exporter in 2012– 16. Its arms exports increased by 21 per cent compared with 2007–11. Almost half of its arms exports went to the Middle East," the Institute says.
Russia accounted for a 23 per cent share of global exports in the period 2012–16, SIPRI states, adding that 70 per cent of its arms exports went to four countries: India, Viet Nam, China and Algeria.
China's share of global arms exports rose from 3.8 to 6.2 per cent between 2007–11 and 2012–16. It is now firmly a top-tier supplier, like France and Germany, which accounted for 6 per cent and 5.6 per cent, respectively, the Institute says.
Short URL: https://me-confidential.com/?p=15147
Posted by
Peter Mulvany
on Feb 21 2017. Filed under
Headlines
,
World News
. You can follow any responses to this entry through the
RSS 2.0
. Both comments and pings are currently closed.