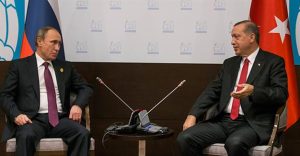 Turkey and Russia are mending their relations that were significantly affected by the downing of a Russian warplane in November 2015, as highlighted by the signing Monday of a major gas pipeline deal at the ongoing World Energy Congress held in Istanbul.
Putin arrived in Turkey for the first time since the incident and seized the opportunity to announce that Russia would resume the importation of Turkish fruits and vegetables.
The two governments would establish an investment fund to "boost relations in many areas such as tourism, energy, agriculture and transport," Putin added.
President Erdogan on his part said "our relations will (improve) in many fields, be it in defense industry, political, economic, trade, tourism or culture" before giving assurances that "we will make up for lost time in the coming days."
Russia's sanctions on Turkey had affected the latter's economy and Erdogan's statement hints that several bilateral agreements could soon follow.
With regards to the agreement concluded on Monday, two pipelines will be built under the Black Sea and they are expected to be operational before 2020. One of the pipelines will deliver gas to Turkey while the other will supply Western Europe through Greece.
The agreement will ease Russia's plans to bypass Ukraine to get its gas to Europe while Turkey, hopes to be a geostrategic powerhouse and a regional oil and gas hub, enabling it to ensure domestic energy security.
The two presidents also talked about the ongoing war in Syria and noted that it was important to get aid to Aleppo.